Take The Reins is a unique collaboration between a charity, Active Communities Network, network partners Flying Futures and key players in the Horse Racing industry. All involved will work together to deliver a racing-based initiative that will
Harness the power of the sport of horse racing to inspire personal and social change and be a force
for social good in disadvantaged communities.
Promote the values and excitement of the sport to new and under- represented communities by improving access, understanding and involvement through grass • roots, year round activities.
Deliver an accredited employability and enterprise programme using racing as a backdrop to improve • pupils aged 14-16 and those Not in Education, Employment or Training (NEET) aged 16+ to improve their transferable skills and employability.
Offer careers days to promote opportunities in and around racing, including training yards and racecourses, and meet the need for new employees in the industry.
Offer work experience, work placements and appropriate traineeships and jobs within the racing industry and its wider community.
Offer training to the racing industry to support staff to work with young people in a safe and productive manner.
Demonstrate impact and the contribution racing can make as part of the global Sport for Development movement and the social impact the sport can have in local communities.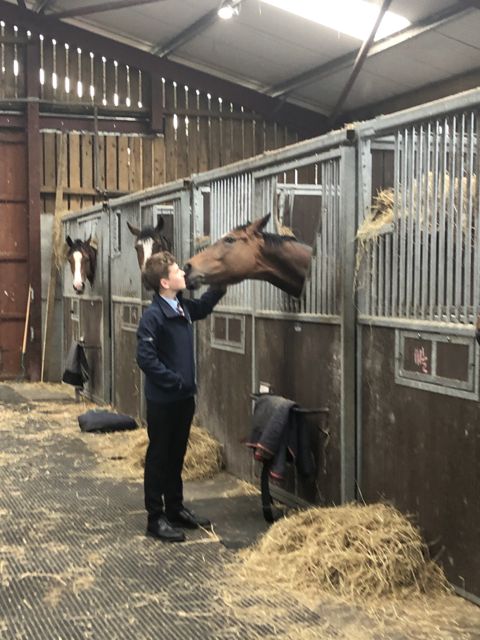 We have seen over one hundred young people visit our yard as part of Take The Reins. Many of those who visit have never been near a horse let alone consider a career working with them. They have experienced what it's like to work in a busy racing yard and chatted to our staff about what it takes to care for these special animals. We have a lot of young staff many of whom do not have a racing background and it's been great to see them share their experiences and tell others that it is possible. As a successful racing yard I feel we have a duty to open our doors to everyone, whether that's to show them the career opportunities available or simply so they can see how special the horses are. I hope they leave our yard with the same passion for the sport as we have.
If you are a school, college or member of the racing industry and would like more information please contact Amie Canham by email acanham@sky.com